Since 2006 Camiel Aalberts has been contributing to increase the capacities of organisations and individuals to improve international trade relations, the performance of import and export controls, and auditing and certification of food safety management in the public and private sector.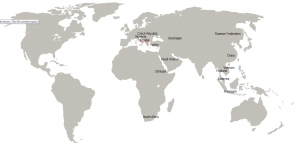 Established in 2013, AalbertsFoodWise allowed Camiel to further expand his activities in this area.
Please continue to read if you would like to get a flavour of his work up till now. Click on the map to see in which part of the world Camiel has been active so far.
Strengthening national organizations to control food safety
Project manager/Facilitator/trainer (Dutch Ministry of Economic Affairst) of capacity building projects aimed to enhance economic sustainability of supply chains and food safety controls for public organisations and private sector representatives in the areas of fishery products, fresh fruits and vegetables, in Indonesia, Croatia,Turkey, Serbia, Saudi Arabia, China, Malaysia, Thailand, Vietnam, South Africa
Training Individuals to become agents of change in food safety and business development
Course coordinator/facilitator for Governance of Food Safety in International supply chains, The Netherlands (NUFFIC, Dutch Ministry of Economic Affairs):
Annual training for 30-50 professionals from public and private organisations in emerging economies and developing countries: international standard setting, EU and national food safety legislation and policy, implementation of public and private standards, impact on developing economies, change management
Course coordinator/facilitator (MATRA-MTEC) of food safety trainings for government officials from new EU and neighbour countries in The Netherlands
Facilitator/trainer (NUFFIC) in a course on Entrepreneurship and Agribusiness Development (Ethiopia, 2013)
Facilitator/trainer (EU Twinning and EU Twinning Light, NVWA) in the Czech Republic (inspections of animal and non-animal products), Azerbaijan (inspection and auditing of establishments for fishery products), and Slovenia (design of a Hygiene code for marketing of animal products for small and medium scale butcher shops)
Fostering dialogue in trade and development related issues
Expert coordinator for SPS/Food Safety third country study visits (EU DG TRADE)
Vietnam, Thailand, Australia, South Korea, Malayisa (2013- now)