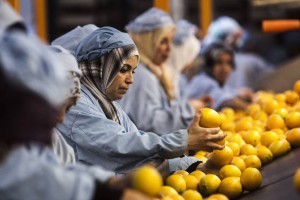 "Small-scale producers in developing countries must access world markets" says WTO's Director-general Azevêdo.

"We look forward to ensuring fair trade of agricultural and food products through this stronger (FAO-WTO) cooperation,"
FAO Director-General José Graziano da Silva said in remarks made to his WTO counterpart, Roberto Azevêdo during an event at the UN food agency's headquarters.
"On the one hand trade is likely to play an increasing role in meeting the growing demand from food-deficit countries. On the other hand, greater trade openness may undermine the capacity of local people to produce their own food," the FAO Director-General added.
Graziano da Silva warned that failure to reach a balanced solution on issues relating to production and trade of agricultural products could derail the international community's recently agreed sustainable development goal to eradicate world hunger.
WTO and FAO are looking at joining forces regarding:
trade restrictions that bear on imports, such as the lowering of tariffs, the need to minimize domestic agricultural subsidies and, the "distortions these programs produce," Azevêdo said, as well as the need to eliminate export subsidies.
the Standards and Trade Development Facility (STDF), capacity development initiatives to assist countries in the implementation of the Codex Alimentarius or "Food Code"which develops harmonized international food standards that protect consumer health and promote fair practices in food trade, and country level assistance to facilitate trade in safe and nutritious food.
During the 10th WTO Ministerial Conference in Nairobi on 15-18 December 2015  these issues will be addressed, focusing on the development and in improving the lives of people in least developed countries.
Source: FAO website